I remember watching Kimi no Nawa this year, when a classmate graciously gave me the downloaded file as a late birthday gift, in my living room.
I sat, alone, the curtains drawn shut, the lights switched off, the room dark and the colours outside grey and blue smudged together. Just as I liked it.
Your Name, was one of the few anime I had watched without reading the manga, and the second anime movie I had watched on my television instead of the computer screen.
It was a beautiful story, but it was when Nandemonaiya played that I started to cry. Tears and tears rolled down my face and I caught myself singing despite hearing the song for the first time.
It's nothing, don't mind it
Just a week or so ago, I told my friends that if I had to relate instruments to emotions,
"The piano would be sorrow, guitar nostalgia and violin plain regret."
In Nandemonaiya, the piano and guitar blend to form something heartbreaking and tear rending.
While I, for one, already have a record for being overly emotional with music, anime and movie, this one being all three physically hurt me.
Even ignoring the beautiful lyrics, the music alone does things to the heart. A true blend of melancholy, nostalgia, regret and sorrow, this is probably one of my favourite anime songs yet.
The underlying theme of missing someone gently tugs at your emotions and makes you think of someone who left as well.
A brief review of Kimi no Nawa to understand characters and plot
The story focuses on two main characters- Mitsuha Miyamizu, a schoolgirl in rural Japan who desires to live in the city even though her fate and family is intertwined with the town, and Taki Tachibana, an aspiring architectural student in Tokyo who lives a typical high school student life with a part time job. With the passing of an unusual comet, the two start dreaming of out of body experiences, in which they quickly realize that these aren't dreams, but the actual experience of swapping of their bodies and consciousnesses.
How Nandemonaiya reflects the entirety of Kimi no Nawa: A theory
The sorrowful gust of wind that blew right between you and me
Where did it find the loneliness it carried on the breeze?
Looking up at the sky after shedding a stream of tears
I could see for miles of blue, it's never been so clear
There's a strange emotion associated to falling in love with someone you never met. It's a sense of happiness so great, it's pain; it's a feeling of loneliness so large, it's sorrow.
Taki-kun has this strange sense of sorrow about him, which mostly manifests in his quick temper. It's the sorrow of forgetting what you love and the forgetting of the reason of your sorrow. The sky mentioned in the first verse matches perfectly with the comet falling in the movie, and how it's everyday things like wind remind him of something (someone) that is missing from his life.
But this something has escaped the memory of mind, and the sense of loss cannot be described, much like how the blue of the sky can only be called 'sky blue'.
Speeches that my father gave me would always make me despair
Somehow, I feel a warmth and comfort today
Your ever kind heart, the way you smile, and even how you find your dreams
I knew nothing, so honestly, I've always copied you
Mitsu-chan had a turbulent relation with her father, a control freak who is standing for elections, and found herself withdrawing into herself just to avoid being associated with her father.
Mitsu-chan also found strength from Taki-kun, especially when she lived after Taki-kun took over some days of her life. The strange romance that blossomed out of never meeting one another but being each other, drew on their strengths and helped them cover for their own weakness.
But I feel that the 'kind heart' referred to here is her grandmother, who single-handedly brought Mitsu-chan up and into the beautiful person she became.

Now, just a little more
Only just a little more
Let's stay here a little longer now
Now, just a little more
Only just a little more
Let's stick together just a little bit longer
I think this verse is self explanatory as to the lake edge where they meet, knowingly, for the first time.
Tragically, their time runs out just as Mitsu-chan was about to write her name on Taki's hand,and so, understandably 'just a little longer'.
One of the extremely tragic scenes of the story includes Mitsu-chan looking at her hand only to find 'I love you'.
There are no words to describe the feels of that scene……
Oh yes, we are time fliers
Scaling the walls of time, climber
Tired of playing hide and seek with time and always coming just short
Crying even when you're happy
Smiling even when you're feeling lonely
It's because a part of you
Has made it here before the rest has
Again, this chorus alone gives us the gist of the whole movie. The tragic reality of loving someone you can never meet, the happiness of finally being able to do that and then the bitter disappointment of falling short.
Both Taki-kun and Mitsu-chan wake up to tears at the beginning of Kimi no Nawa, without a reason.
I used to wish upon the stars, the toys that I once adored
Forgotten now, are rolling 'round the corners of the floor
Finally, my dreams have counted up to a hundred today
Someday, I'll trade them all for just the very one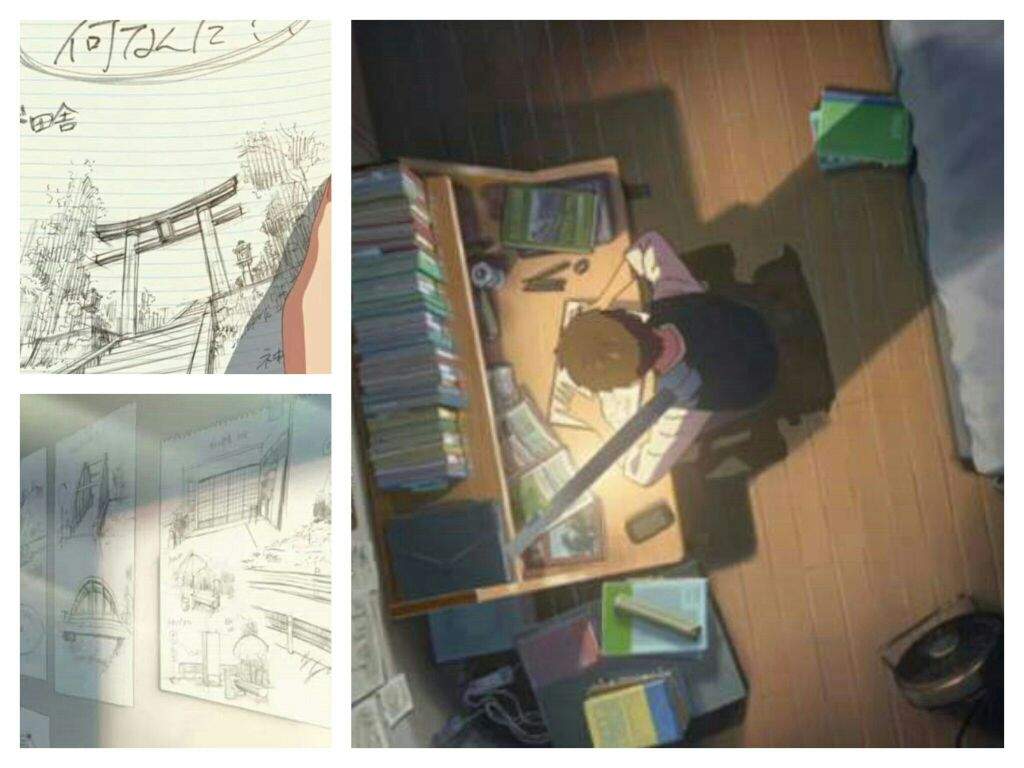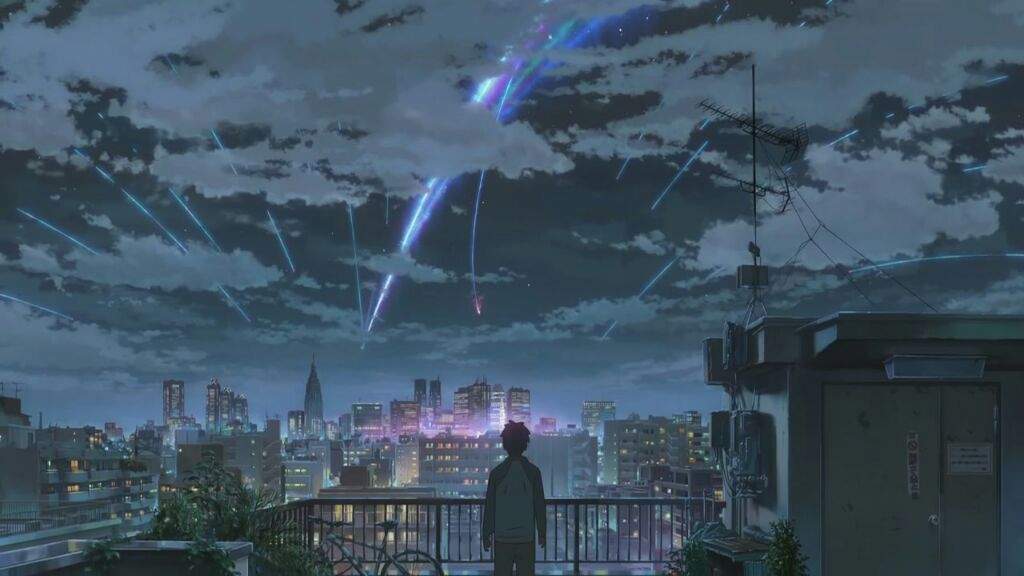 With this verse we can get back to Taki, in the time between after he meets Mitsu-chan and time which he forgot about his dreams.
"Someday, I'll trade them all for the very one"
There's this desperation about every search he conducts, everything he draws. Desperation and longing.
Girl that I have seen in school, that never have told "hello"
After class today, I waved and said, "See you tomorrow"
It's not really that bad trying something new every once in a while
Especially if I can do it with you by my side
I have a feeling that after Taki-kun changes Mitsu-chan's image, she does start talking to some more girls in her class.
Because 'it's not that bad trying something new, especially with (Taki) you by my side'.
Even if you're not around in this wide world
Of course it surely would have some kind of meaning
But if when you're not around in this crazy world
Would be like the month of August without summer break
And if you're not around in this great world
Would be like Santa Claus without any glee
If you're not around in this wide world
Once again addressing both their feelings when they stop their body switching, the break precisely describes the desolate feeling of missing someone.
Oh yes, we are time fliers
Scaling the walls of time, climber
Tired of playing hide and seek with time and always coming just short
No, never mind that
No, never mind what I said now
'Cause I'm on my way to you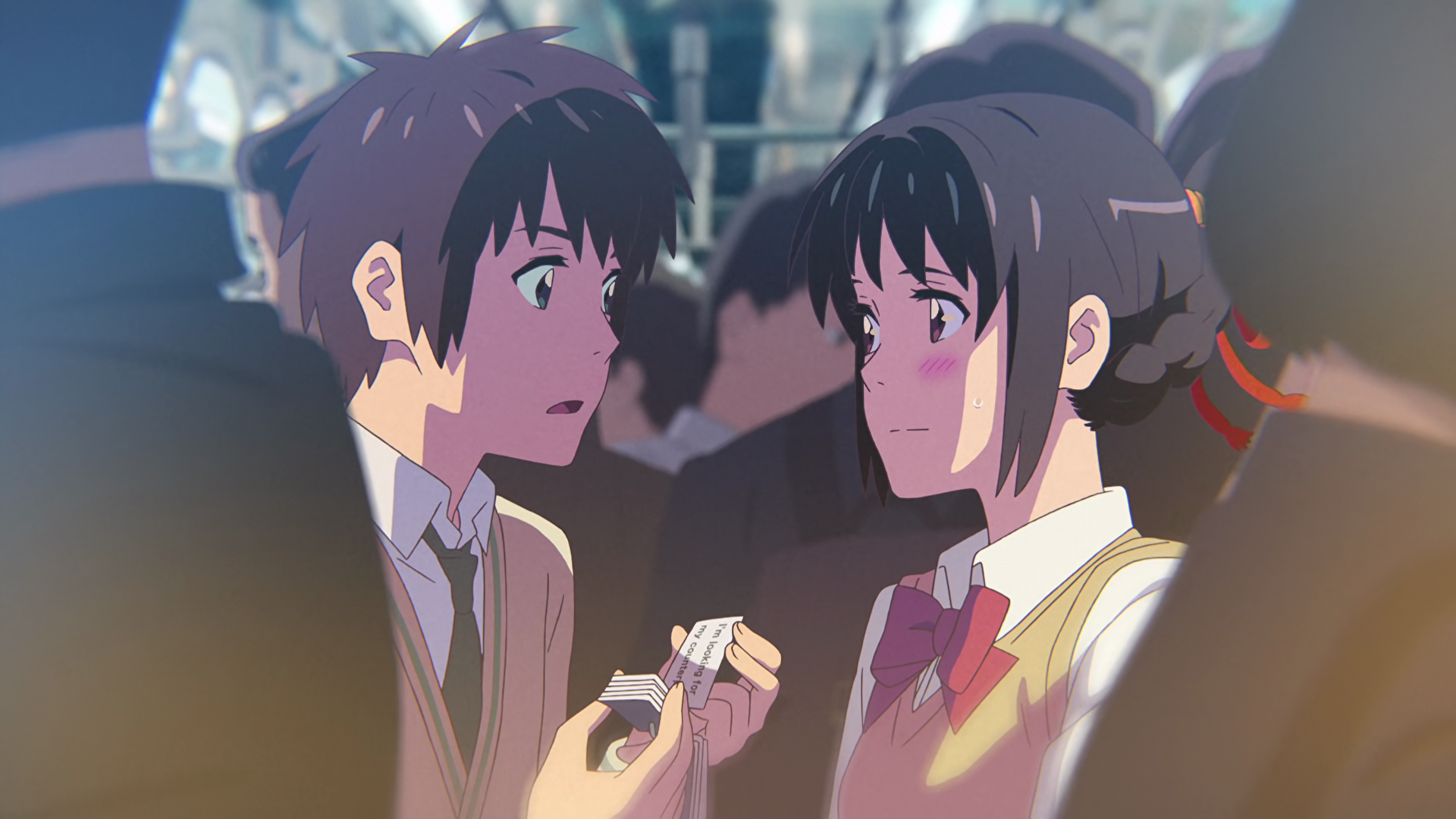 You're quite a showy crier
Want to stop your tears, see your eyes drier
But when I went to wipe your tears dry
You refused but I saw them pouring down your face, I knew why
He knows why, because he himself was crying too.
Recently, I read in a book, "Time is circular, but memories aren't" and the only thing I could think of was Kimi no Nawa.
Now, excuse me while I go listen to Nandemonaiya again. (And cry of course)
Crying even when I'm happy
Smiling even when I'm feeling lonely
It's because the heart of mine
Has made it here before my body
Thanks for reading!
What do you feel? Do you agree? Disagree? Let me know below!